Computer forensics training teaches that computer forensic investigation is the process of hacking attacks and properly extracting evidence to report the crime and conduct audits to prevent future attacks. Computer forensics is simply the application of computer investigation and analysis techniques in the interests of determining potential legal evidence. Evidence might be sought in a wide range of computer crime or misuse, including but not limited to theft of trade secrets, theft of or destruction of intellectual property, and fraud. Computer Hacking Forensic investigators (CHFI) can draw on an array of methods for discovering data that resides in a computer system or be recovering deleted, encrypted, or damaged file information. Securing and analyzing electronic evidence is a central theme in an ever-increasing number of conflict situations and criminal cases.
CHFI v10 includes all the essentials of digital forensics analysis and evaluation required for today's digital world. From identifying the footprints of a breach to collecting evidence for a prosecution, CHFI v10 walks students through every step of the process with experiential learning. This course has been tested and approved by veterans and top practitioners of the cyber forensics industry.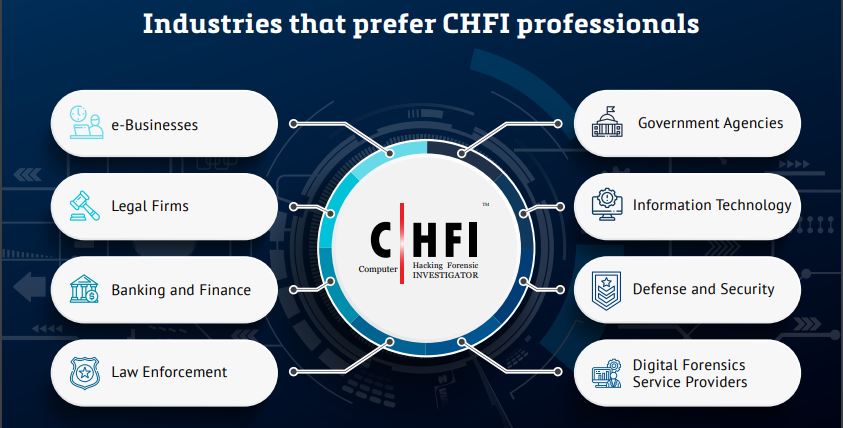 CHFI v10 is engineered by industry practitioners for both professionals and aspiring professionals alike from careers including forensic analysts, cybercrime investigators, cyber defense forensic analysts, incident responders, information technology auditors, malware analysts, security consultants, and chief security officers.